I love the smell of motor oil in the morning. Eight years after the last race in Limestone, Maine, The 101st Running of the First Annual Runaway Jim Memorial 5k Road Race will curve around the speedway on Saturday morning at 11:15am sharp. It's technically 5.5 kilometers, 3.4 miles, but we know you're serious and want to give this race 110%. Drug testing will not take place before and after the race.
Officially registered runners will receive a numbered race bib for official timing. We encourage runners to pre-register online as only limited registration may be available at Watkins Glen. If you're not registered, have no fear -- runners who are not registered may run at the end of the pack behind the Official Runners. Trophies will be awarded to the fastest Male, Female, and cheetah, and the 2nd and 3rd place finisher over all.
The course race will be shown on the venue map you receive when you arrive at Super Ball IX. Runners will be running on pavement not grass.
The Runaway Jim Memorial 5k Road Race Registration Table (providing Numbered Bib pick up, General Race Information and Course Maps) will be open on Friday from Noon-8pm at the ReCharge Lounge in the back of the concert field and on Saturday morning beginning at 9:00am at the Pit Stop across from the yellow and red grandstands, which is also the starting and finishing point of the race.
Race entry is free to all ticket holders. Pre-Registration is now CLOSED. Runners will be able to register on site, on a first come, first served basis until all spots are filled.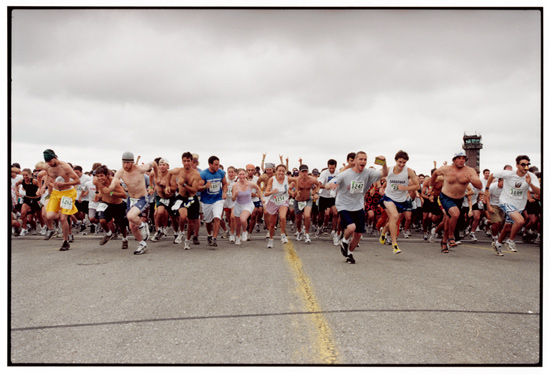 Runaway Jim 5k at IT. Photo by C. Taylor Crothers © Phish